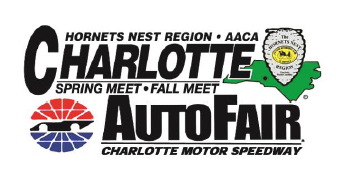 Are You Selling A Car Or Truck At Charlotte AutoFair?
HNR's Collector Car Office Will Gladly Assist You.
We will help you with the re-assignment of Title, Notarize Signatures, provide "Bill Of Sale" form, etc.
Hornets Nest Region, AACA, is a North Carolina licensed Motor Vehicle Dealer at the Charlotte Motor Speedway location.
The HNR Collector Car Office is located in the Time Warner Media Center
between the Garages–look for the sign.
If you need a 30 Day Temporary Tag, it can be furnished, provided certain procedures are followed:
Vehicle Title must transfer to Hornets Nest Region, AACA FROM the Dealer or individual selling the vehicle, in order for a 30 Day Temporary Tag to be issued at "Charlotte AutoFair".
Hornets Nest Region then transfers the Title to the purchaser.
Liability Insurance with a company licensed in N.C. is required.
The only charges for the above services are the following:
Notary Fees: One (1) Signature………..….$5.00
Two (2) Signatures………… .$6.00
Three (3) or more Signatures..$7.00
Cost of 30 Day Temporary Tag…………$1.00
(Fees are subject to change.)