Charlotte AutoFair Event Schedule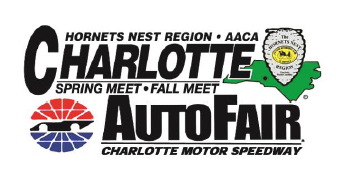 Charlotte Motor Speedway located near Interstate 85 Exit 49 on US Highway 29.
Wednesday is a Vendor set-up day and is not open to the public.
Gates open for Vendors at 7:00 AM each day Thursday thru Sunday.
Thursday-Friday-Saturday-Sunday Gates open to public at 8:00 AM.
Vendor selling in Flea Market and Car Corral continues until sundown on Thursday-Friday-Saturday.
Flea Market sales may continue until sundown – public is not required to leave when ticket sales stop.
Notice: As with any large Flea Market, Vendors may come and go as needed and many will not be available all day on Sunday.
Event Programs are available from the Hornets Nest Region, AACA at the Gates or in the Registration Tents each morning Thursday-Friday-Saturday until about 10:00 AM.
AACA Southeastern Spring Meet Car Show is held in the Spring and a Hornets Nest Region Car Show is held in the Fall. Each event schedules Collector Cars start coming in by 7:00 AM; judging starts at 11:00 AM. Spring Awards will be made at the AACA Banquet held at the AACA Tent adjacent to the Show Field. Fall Awards will be made on the Region show field about 2:30 PM. Pre-registered, original or restored to original vehicles only, are allowed at each event. (The Fall Car Show may have an area for modified cars – contact the Hornets Nest Region Office to inquire.) Spring registrations are made through the National AACA Office in Hershey, PA and everyone showing a vehicle must be a member of National AACA. Fall registrations are made through the Hornets Nest Region office and participants are not required to be a member of National AACA. These car shows are on pavement.
AACA Youth Program takes place on Saturday. Young people of Scouting age are welcome to learn about cars and their parts.
Many other Car Shows are on display in the Start-Finish Line area, Pit Road area and Concourse area Saturday all day and Sunday until about 2:00 PM– consult the Charlotte AutoFair Program for locations.
Manufacturers Midway and the Garage Displays are open all four days.
Plan ahead and be prepared for the weather conditions!
Admission and Parking fees are collected by Charlotte Motor Speedway.
Food and Beverage available thru the Speedway on the grounds.
Approximately 150,000 attendance is expected over the four day event.
*All details are subject to change.