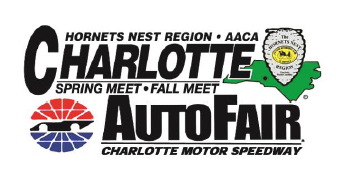 Blue Field and Orange Field Flea Market spaces inside the Infield are usually sold out in advance, especially for the Spring event. Most of these spaces are ten feet wide and thirty feet deep.
Green Field and Red Field Flea Market spaces are outside the Track Infield. Most of these spaces are ten feet wide and twenty feet deep and cost less than the Blue and Orange Field spaces. The Red Field is only used in the Spring — the Fall event Green Field is much smaller than the Spring event.
See Flea Market maps on this website.
Reserve your spaces at least four weeks in advance by using the Registration Form on this website or by phoning the Hornets Nest Region Office at 704-841-1990, M-F, 9AM to 4PM.
Spaces may also be purchased when the event opens at the Green Field Registration Tent, beginning at 7:00 AM on Thursday. Spaces are available for sale Thursday thru Saturday at this location. Access to the Green Field Registration Tent is available by using Speedway Entrance P from Morehead Road or Speedway Entrance A from US29.
Vendors with Blue and Orange Field spaces can enter at 7 AM each day, unless they are "living" in these fields. Vendors with Green and Red Field spaces can enter beginning Tuesday before the event opens, if they know where to park, and do not need help. Hornets Nest Region Officials will not be available on the Fields to help Vendors until Thursday morning at 7 AM. Speedway personnel DO NOT have information to help Vendors — the Hornets Nest Region Officials take care of all vendors.
Gate opens for Vendor Set-Up to begin at 8:00 AM on Wednesday – there is no public admission on Wednesday.
Vendors may enter beginning at 7:00 AM each morning, if they leave the Speedway overnight.
Thursday-Friday-Saturday-Sunday Gates open to public at 8:00 AM.
Vendor selling continues until sundown on Thursday-Friday-Saturday.
Public ticket selling by Speedway continues each day, except Sunday, until 5:00 PM. Sunday varies.
Flea Market sales may continue until sundown – public is not required to leave when ticket sales stop.
Hornets Nest Region urges all Vendors to remain on Sunday if possible.
Vendors will want to advertise in the Event Program to gain more exposure to customers. The Event Program is passed out free to customers as they enter on Thursday thru Saturday each morning.