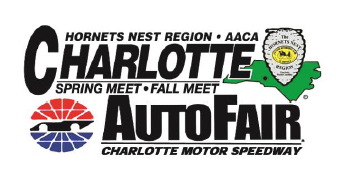 1 – Where are the Charlotte AutoFair Official Tents & Information?  Hornets Nest Region Officials are located in the Orange Field Registration Tent located between the Orange Field and Blue Field Flea Markets or the Green Field Registration Tent located at the far end of the Green Field Flea Market.  Exit through Gate 26 Underpass to get into the Green Field.
2 – How do I find a Vendor?  Use the Charlotte AutoFair Program – Vendors are listed by Company Name, Individuals name, Specialty they sell. There is a selling code list. There is a Manufacturers Midway list of displays.
3- Where is the AACA Meet & Judges School?  The AACA Meet is located in the paved lot at the US29-Morehead Road intersection outside Gate 8. Free Admission.  The AACA Tent is located there. AACA Meet is Saturday only 7:00 AM – 3:00 PM. Awards begin at 4:00 PM – Picnic at 5:30 PM. AACA Judges School is located in the Media Center at 2:00 PM Friday.
4 – Where can I get vehicle title information?  Hornets Nest Region's Dealer Office in the Media Center.
5 – Who do I call for a medical emergency?  Dial 911
6 – How do I get a key for my rented portable toilet?  Go to Hornets Nest Region Official Tents – Orange Field Flea Market and Green Field Flea Market.
7 – Who has gasoline, jumper cables, air compressor?  HNR Team Leaders can radio the Region Tow Truck service.
8 – Where are the restrooms?  Where are the food vendors? See Program map.
9 – Where can I rent a scooter?  Scootaround Company is located in a tent in the Manufacturers Midway area behind the Media Center.  Phone: 888-441-7575
10 – Where can I buy ice?  Speedway Snack Building – see Program map for location.
11 – Where is an ATM?  Usual locations are: outside HNR Orange Field Registration Tent; outside HNR Green Field Registration Tent; outside Papa John's Pizza across from Media Center; Media Center; Sprint Cup Garage; on the Speedway Concourse; Ticket Office Gift Shop in Smith Tower. (These locations are not always used at each event.)
12 – How late can Vendors come back into the Blue and Orange Field Flea Markets after going out for dinner?  Return with credentials by 11:00 PM.  Please understand night security may not be as familiar with the Event.
13 – How late can Vendors come in to set up each day?  Before dark with credentials.
14 – Can I drive in and out during the day?  No traffic should be moving 11AM to 4PM – if you must go out, get a hand stamp for re-entry that day.  Vendors should not be driving during event hours between 9:00 AM to 5:00 PM – after unloading and setup.
15 – How late can I stay or what time does the track close?  Once inside, you can stay as long as you want. The event does not close, but ticket selling will stop in late afternoon.
16 – When can I come in to pick up parts?  Thursday thru Saturday, at 4:00 PM – Sunday at Noon. Obtain stickers at Gate 26 Underpass location or from Orange Field or Green Field Registration Tents at 4:00 PM. Parts pick up stickers are not issued until 4:00 PM. Use Gate 26 Underpass only to enter for parts pick up.
17 – What are the dates for the next Charlotte AutoFair?  October 23-25, 2020.  See the Program.  NASCAR must set race dates for speedway to determine fall dates after 2020.
18 – Where can I get information on future HNR events?  See the Program or Charlotte AutoFair website.
19 – Where are the Special Exhibits?  The Pavilion located in the Garage closest to the Scoring Tower.
20 – Where is the Green Field and Red Field?  Are there more Vendors outside?  The Green Field is located outside the Underpass Gate 26 to the left as you exit the Underpass. The Red Field is located outside Gate 25.  Fully half the Vendors are in the Green & Red Fields.
21 – Where is Lost and Found?  Security Office near speedway operations shop on I-600.
22 – Where is the car auction?   Car auctions are no longer held at Charlotte AutoFair.
23 – GPS address for the speedway?  5555 Concord Parkway South Concord, NC 28027
24 – Who do I call for vehicle damage police report?  Call 911 for Concord Police
Charlotte AutoFair – Produced by Hornets Nest Region, AACA
Since 1978
March 1, 2020