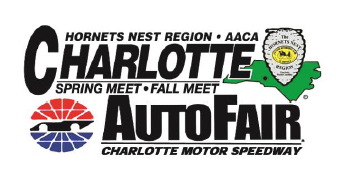 No Golf Carts Since January 1, 2003
— Speedway Insurance Requirements
The Hornets Nest Region, AACA has been notified by Charlotte Motor Speedway that Vendors and members of the public will not be allowed to operate golf carts on Speedway property — effective January 1, 2003. This also includes the physically impaired, who had been allowed in the past to use golf carts. The Speedway's insurance carrier is now requiring a very stringent management of non-street licensed motorized vehicles, such as golf cars, used on speedway property. This applies to all events promoted on the Speedway Motorsports properties, which includes Charlotte Motor Speedway. The Speedway will continue to allow the use of Golf Carts at Charlotte AutoFair for use the Hornets Nest Region, AACA and also for other Speedway authorized representatives and Racing-related sponsors.
Effective January 1, 2003 the physically impaired will only be able to use the personal battery operated convenience vehicles typically allowed on a downtown sidewalk and inside an office building. Golf carts will not be permitted for physically impaired use. This applies to all events on the various Speedway Motorsports properties, including all races as well as Charlotte AutoFair.