Charlotte AutoFair — produced and presented by the Hornets Nest Region, AACA — is the largest and greatest Collector Vehicle Event in the Southeast. The Hornets Nest Region is a unit of the Antique Automobile Club of America (AACA).
The Hornets Nest Region established Charlotte AutoFair in April 1978 at Charlotte Motor Speedway. The Region has continued to develop Charlotte AutoFair as the premier AACA attraction in the country. Charlotte AutoFair has gained a worldwide reputation for being a well-organized, excellent presentation of a collector vehicle event. Success brought a second event — the Fall Event — beginning in 1990. The second event originally took place in September — and has now moved back to September beginning in 2012.
Now, each Spring (April) and Fall (September), the Hornets Nest Region, AACA presents a four-day event which includes thousands of Vendors selling collector vehicle parts, tires, glass, restoration supplies – offering something for every enthusiast, no matter their particular field of interest. Each event includes a wide range of parts vendors, collector car sales in the Car Corral, multiple car shows, a collector car auction and other unusual attractions.
In the Spring, Charlotte AutoFair is so huge with more than 10,000 Vendor spaces; it overflows outside the Speedway Infield to encompass the Green Flea Market and Red Flea Market Fields. The Fall event, with more than 8,000 Vendor spaces, also began to overflow the Speedway Infield a couple of years ago and now also includes a Green Flea Market Field.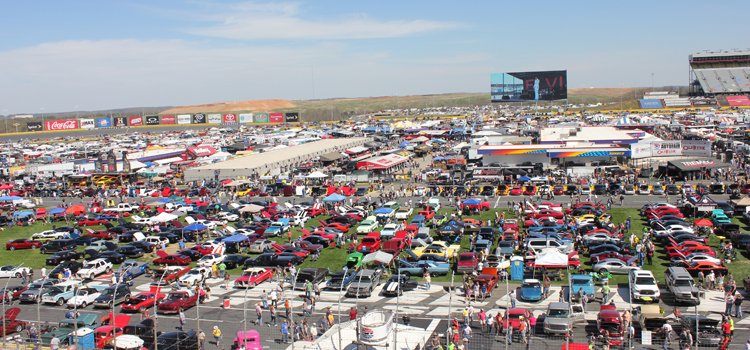 In the Spring, the Car Corral on the main track oval includes more than 1,600 collector vehicles for sale. Also in the Spring, there is a Green Car Corral stretched out along the perimeter road at the base of the track – this area includes many more collector vehicles for sale. The Fall (September) event utilizes only the Track oval for the Car Corral. In addition, during both the Spring and Fall events, some hobbyists sell collector vehicles on their Flea Market spaces. The result is that generally, possibly 3,000 collector vehicles can be expected to be for sale in the Spring and possibly 2,000 in the Fall.
The Hornets Nest Region, AACA presents, at each event, an Antique Car Show, judged by Antique Automobile Club of America standards. The Spring AACA NATIONAL Car Show attracts approximately 350 vehicles for judging. The Fall AACA Region Car Show attracts approximately 250 vehicles for judging. The term "Antique" presently (2013) includes vehicles manufactured in 1988 or earlier, or twenty-five years old. All vehicles must be pre-registered.
In addition, there are more than fifty other car clubs, which present their vehicles for display on Saturday and Sunday at each event. All vehicles must be pre-registered.
The two Speedway Garage areas are reserved for special attractions and cars of special interest. Past attractions have included California Customs, many other wild and crazy vehicles, and beautiful concept show cars from Ford – General Motors – Chrysler.